A distinctly bookish part of my personality that looks forward to January 1st because, in addition to starting a new year, I get to set a new reading goal on Goodreads. This year was different, though. I set my Goodreads reading goal lower this year than I have in previous years.
What Goodreads should not be:
Last year I let my reading goal hang over me like yet another item on my to-do list. I set out to read a fair amount of books, an amount fewer than the previous year because I figured I would be busier during my senior year of college than in my junior year. I set the bar for a high figure I felt I could reach.
I did not meet my goal. I was short two books on December 31. During the last month of 2013, I read book after book, enjoying the opportunity to fit in some reading the likes of which I hadn't had time for during the semester. Nonetheless, I did not read "enough." On New Year's Eve, I knew I would never be able to read two books before the ball dropped.
Then I realized how I had let my reading goal become, instead of a worthy aspiration, a to-do task that the perfectionist in me said I'd failed.
And yet I hadn't failed. I'd read a good many wonderful books all year, books that I loved, books that had stretched me. Just because I did not read two more did not in any way mean that I had failed as a reader. Because Goodreads–and reading goals–should not ever be measures of our efficiency or worth.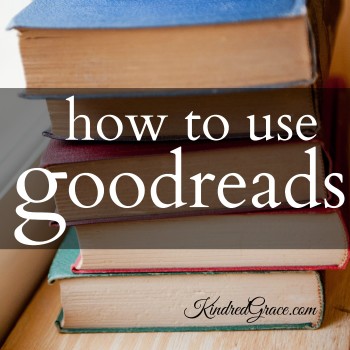 How to use Goodreads:
Goodreads–and the reading goals the site allows you to set–are tools we use and goals we strive to keep because we want to better our minds and grow our hearts. Goodreads is a social media site I've grown to love because, in addition to allowing you to set year-long reading goals, it works a little like other social media sites, only this one is exclusively for book-lovers.
Want to connect with other readers?
On Goodreads, I can "become a fan" of my favorite authors (much like I would "like" their pages on Facebook or "follow" them on Twitter). I can also connect with other readers via groups and becoming friends (similar to how I have "circles" on Google+ and "connections" on LinkedIn).
Or need a way to track your reading habits?
Even if you choose not to open your Goodreads account to others or have any updates popping up on your Recent Updates newsfeed, Goodreads can be an excellent tool for tracking the books you are reading or want to read. Just find a book, hover over the green bar that says "Want to Read" and select whether you "want to read" it, are "currently reading" it, or have "read" it.
Related: My friend Gretchen has a great tutorial on all things Goodreads!
Calling all book reviewers!
You can also write reviews of the books you love–so if you are a book reviewer like me, Goodreads is a good addition to the list of consumer and social media sites where you post your reviews.
Want to join a book-loving community… or ten?
There are gaggles of Goodreads groups you can join according to your interests. Have a favorite genre? There's undoubtedly a group for that.
Are you on Goodreads? How do you use it?
Photo Credit: Jenni Marie Photography