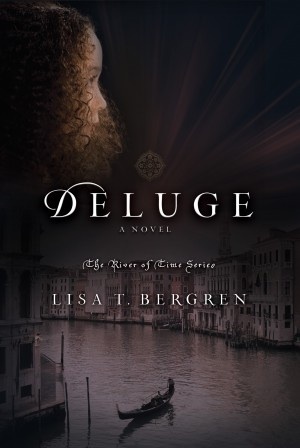 You want to know what I feared? I feared this finale would sag. That it would be short–or stretch too long. That it would be sappy and too easy–or that it would depress me.
After all, this is the Black Plague we're talking about here. And characters I've loved and followed not just for 5 previous books but for the multiple (*multiple*) times I've reread those 5 previous books.
This final installment in the River of Time series does none of that. The length is mammoth and just right, yet I read it in two days. The romance and adventure and surging richness of the other books are all present, but this is a whole new level of life. The characters are more mature, the stakes are higher, the family has grown, and the plague is upon them.
Something else I feared: that everyone would both die. Yep, I thought maybe Lisa would go and pull a Roth or something and I'd be left heartbroken and have to get rid of the other books because I couldn't even look at them anymore. Well, at the risk of being all spoiler-y, everybody doesn't die.
But not everyone lives. The plague is real, people, and it's horrible. And uncontainable, despite the Betarrini's best efforts.
This book is one of my favorites–and ranks as high as Waterfall when it comes to my favorite in this series. Which is fitting, since this has got to be my favorite YA series of all time.
Why? Because there are secrets and twists and I can never figure out where it's going but I don't care because I just want to get there.
For fans of books that make you think, feel, cry, laugh, and smile, here's one of the best.
Disclosure: The author not only gave me the privilege of reading this book pre-release but I was able to proofread it as well. Which means I was wiping my eyes and fixing the stray typo. Best job ever.
About the Author
Lisa Tawn Bergren is the best-selling, award-winning author of over 30 books, with more than 1.5 million copies sold. Lisa's time is split between managing home base, writing (including a fair amount of travel writing), consulting and freelance editing (with a little speaking here and there). She's married to Tim, a liturgical sculptor, graphic designer and musician. They have three kids–Olivia, Emma, and Jack. The Bergrens make their home in Colorado Springs, Colorado.
Find Lisa on Facebook // Twitter // Pinterest // Goodreads
Read my reviews of my favorite series by Lisa's: Waterfall // Cascade // Torrent // Tributary // Bourne
Read my review of another of Lisa's series: Glamorous Illusions, Grave Consequences, and Glittering Promises
Disclosure: The author hired me to proofread this book. This post contains affiliate links. Read my full disclosure here.